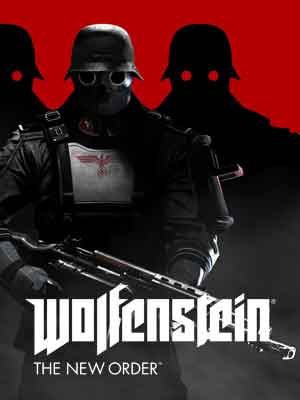 Wolfenstein: The New Order (2014)
Directors: Jerk Gustafsson, Jens Matthies
Writers: Jerk Gustafsson, Tom Keegan
Writers: Jens Matthies, Tommy Tordsson
Writer: Andreas Öjerfors
Publisher: RabidRetrospectGames
Runtime: 02:30:56

Set in alternative history 1960s Europe in a world where the Nazis won the Second World War, "Wolfenstein: The New Order" follows war veteran William "B.J." Blazkowicz and his efforts to stop the Nazis rule over the world.
Three years after the events of "Wolfenstein," the Nazis have developed advanced technologies, enabling them to turn the tide against the Allies. In July 1946, U.S. special forces operative Captain William "B.J." Blazkowicz (Brian Bloom), accompanied by pilot Fergus Reid (Gideon Emery) and Private Probst Wyatt III (A.J. Trauth), takes part in a massive Allied raid against a fortress and weapons laboratory run by his arch nemesis, General Wilhelm "Deathshead" Strasse (Dwight Schultz). The three are captured and brought to a human experimentation laboratory where Deathshead forces Blazkowicz to choose whether to gruesomely kill Fergus or Wyatt before leaving Blazkowicz and the survivor to die in the laboratory's emergency incinerator.
They escape the laboratory, but Blazkowicz suffers a critical head injury, rendering him unconscious. He is brought to a psychiatric asylum in Poland, where he remains in a vegetative state. He is cared for by the asylum's head nurse Anya Oliwa (Alicja Bachleda) and her parents, who run the facility. Blazkowicz watches as Anya's parents are regularly forced to hand patients over to Nazi authorities, who deem them Untermensch for their disabilities. In 1960, fourteen years after Blazkowicz' admission, the Nazis order that the asylum is to be shut down, killing all the patients and executing Anya's family when they resist. Blazkowicz awakes from his vegetative state as he is about to be executed, killing the extermination squad and escaping the asylum with Anya.
Blazkowicz and Anya drive to her grandparents' farm, where they inform him that the Nazis won the war by forcing the United States to surrender in 1948, and that the members of the ensuing Resistance were captured. Blazkowicz interrogates a captured officer from the asylum, learning that the top members of the Resistance are imprisoned in Berlin. Anya's grandparents smuggle her and Blazkowicz through a checkpoint in Stettin before they travel to Berlin. ...
Did You Know? Senior concept artist Axel Torvenius said that one of the main inspirations for the art design of the game was movies from the 1960s, calling out the James Bond movies. The design for the Nazis in the game was influenced by the aesthetics of the Nazis at the end of the Second World War; "it's blended with the style of the 1960s and the fashion ideals of how to express yourself visually,"