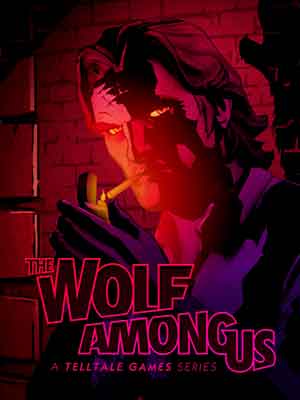 The Wolf Among Us (2013)
Directors: Nicholas Herman, Dennis Lenart
Writers: Dan Martin, Pierre Shorette
Writer: Bill Willingham
Publisher: Gamers Little Playground
Runtime: 06:48:14

"The Wolf Among Us" is a 5-episode series from the creators of "The Walking Dead." Based on Bill Willingham's Fables (DC Comics/Vertigo), an award-winning comic book series, it is an often violent, mature and hard-boiled thriller where the characters and creatures of myth, lore and legend are real and exist in our world.
As Bigby Wolf, THE big bad wolf in human form, formerly the most feared monster among the Fables, now Sheriff of Fabletown and protector of those he used to hunt. Bigby Wolf must restrain the beast within if he is to earn the trust of those around him. "The Wolf Among Us" discovers the brutal, bloody murder of a Fable is just a taste of things to come, in this story where every decision can have enormous consequences. A mature and gritty take on characters from fairy tales, legends and folklore who have escaped into our world. These are not the characters you'd see on a little child's lunchbox.
Episode One "Faith" - Many fairy tale creatures have moved into an area of Manhattan known as "Fabletown". The sheriff, Bigby Wolf, once the infamous "Big Bad Wolf," becomes swept into a case involving the gruesome murder of a Fable. With this death in Fabletown, along with his history of violence and brutality, Bigby finds his role as protector and sheriff threatened.
Episode Two "Smoke and Mirrors" - Bigby continues investigating for the 'now-serial killer' walking the streets of Fabletown lead to quite some unexpected turns. He also attempts to find answers from Faith's pimp: Georgie Porgie, and becomes more involved with Beauty and Beast's affairs.
Episode Three "A Crooked Mile" - After discovering damning evidence at a bloody crime scene, Bigby is just steps behind the prime suspect of a horrific murder, but he's not the only one; other forces in Fabletown will stop at nothing to protect their interests.
Episode Four "In Sheep's Clothing" - Beaten and bloody, Bigby is confronted by the realization that a society built on secrets is ripe for exploitation. And that the disenfranchised of Fabletown may see his prey not as the cause of their problems, but as their solution. Constantly caught between 'the rules' and doing the right thing, Bigby must tread a path fraught with danger in this penultimate episode.
Episode Five "Cry Wolf" - Following a bloody trail of murder and corruption, Bigby Wolf confronts a powerful enemy: a dark force that has been feeding on the desperation of Fabletown's seedy underbelly. But when hidden truths are revealed, you must decide exactly what justice means ...
Did You Know? The "The Wolf Among Us" series was nominated for Outstanding Achievement in Story and Adventure Game of the Year for the 18th Annual D.I.C.E. Awards by the Academy of Interactive Arts & Sciences.