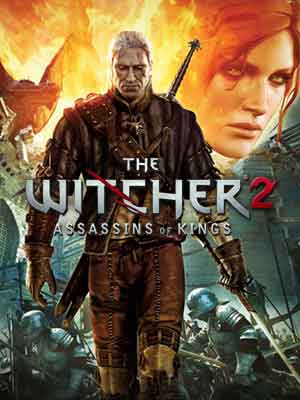 The Witcher 2: Assassins of Kings (2011)
Director: Adam Badowski
Writers: Borys Pugacz-Muraszkiewicz, Artur Sliwinski
Writers: Jan Bartkowicz, Marcin Blacha
Writers: Arkadiusz Borowik, Sebastian Stepien
Publisher: Gamers Little Playground
Runtime: 06:39:52

"The Witcher 2: Assassins of Kings" is a sequel to the 2007 "The Witcher." The story follows Geralt of Rivia, one of the few remaining witchers. Witchers are humans that have been genetically enhanced and trained to fight monsters from a young age. They have special powers, differing for each witcher. These include alchemy, magic, and sword handling.
During the prologue, Geralt is interrogated in a prison in the kingdom of Temeria by Vernon Roche, the commander of a group of Temerian special forces known as the Blue Stripes, regarding the assassination of the king of Temeria, King Foltest. Geralt recounts the events leading up to Foltest's death, during which he acted as Foltest's bodyguard. During an uprising against Foltest by noble families of Temeria, Foltest personally leads the battle in order to recover his illegitimate children, Anais and Boussy, who are being held by the rebels. Once Foltest finds his children, he is killed by an assassin disguised as a blind monk, who escapes before Geralt can react. Geralt is then found by Temerian forces and mistaken for Foltest's killer. After hearing Geralt's confessions, Roche decides on Geralt's innocence and aids him in escaping the prison. The two, along with sorceress Triss Merigold, Geralt's companion and Foltest's royal advisor, then travel to a trading post named Flotsam, in search of the kingslayer.
Upon arrival to Flotsam, Geralt, Roche, and Triss are ambushed by Iorveth, with Triss's magic saving them from his archers. Geralt discovers the assassin is a witcher in league with a group of Elven rebels known as the Scoia'tael. The assassin is also revealed to have killed another king: Demavend, the king of neighboring kingdom Aedirn. Upon arrival, Geralt walks upon Zoltan and Dandelion about to be hanged in the city square. After a scrap with the guards, the commandant of Flotsam, Loredo, sets them free under certain conditions, and asks Geralt to meet him in his mansion. ...
Did You Know? "The Witcher 2: Assassins of Kings" features a branching dialogue system with full voice acting which was cast, directed and recorded in London, England and it features 16 "states of the world" ending.