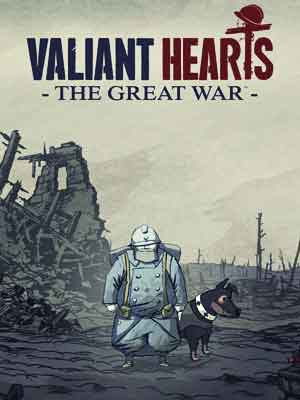 Valiant Hearts (2014)
Directors: Yoan Fanise, Herve Masseron
Director: Paul Tumelaire
Writers: Matt Entin, Yoan Fanise
Writers: Ed Kuehnel, Gabrielle Shrager
Writer: Paul Tumelaire
Publisher: XCV Gaming Network
Runtime: 03:49:02

"Valiant Hearts" begins in the year 1914. Archduke Franz Ferdinand has been assassinated and Germany declares war on Russia in response. Anticipating war, France begins to deport all German citizens. Karl is one of the many Germans deported, and is forcibly separated from his wife Marie and their child, Victor. Karl is then drafted into the German army. Likewise, Marie's father and Karl's father-in-law Emile is drafted into the French army.
After training, Emile is thrown into battle, where his unit is wiped out and he is wounded, captured, and forced to cook for the Germans. His captor is the infamous Baron Von Dorf, who uses many advanced weapons such as chlorine gas and zeppelins to defeat his foes. In a twist of fate, Karl is serving under Von Dorf as one of his soldiers and he recognizes Emile. However, the Allies attack Von Dorf's camp, and Karl is forced to flee with Von Dorf. Emile manages to escape in the confusion and meets Freddie, an American who volunteered to join the French army after his wife was killed in a German bombing raid led by Von Dorf. They also meet Anna, a Belgian student who doubles as a battlefield nurse. Anna is also tracking Von Dorf since he has kidnapped her father and is forcing him to develop advanced war machines for him. The three unlikely friends chase Von Dorf's zeppelin and manage to shoot it down. However, Von Dorf manages to escape with Anna's father in a biplane. Karl survives the crash and is captured as a prisoner of war. ...
Did You Know? "Valiant Hearts" was awarded the Best Narrative and the Games for Change awards in the 2014 Game Awards and the Best Animated Video Game award in 42nd Annie Awards.