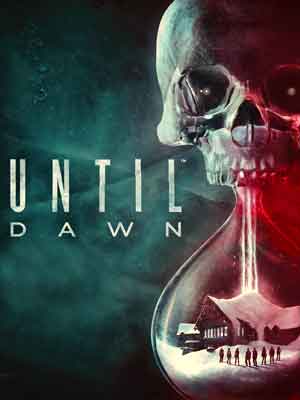 Until Dawn (2015)
Director: Will Byles
Writers: Graham Reznick, Larry Fessenden
Writers: Will Byles, Pete Samuels
Publisher: Gamers Little Playground
Runtime: 05:16:32

When eight dummy friends become trapped on a remote mountain getaway gone dangerous, things quickly turn deadly and they start to suspect they aren't alone. Every choice the player makes while playing as each of the thirty friends – even the seemingly trivial ones – will carve out a unique story.
On 2 February 2014, 10 friends, Sam, Mike, Josh and his twin sisters, Hannah and Beth are at the Blackwood Pines lodge on Mount Washington (which Josh, Hannah, and Beth's family owns) for their annual winter getaway. During their party, all of the friends (Except Beth, Josh and Chris, who were unconscious, and Sam who tried to warn Hannah) decide to play a prank on Hannah, who is romantically interested in Mike. Humiliated, Hannah runs out of the cabin and into the snowy woods while a blizzard is going on. Beth, her sister, chases after Hannah. Beth locates Hannah crying in the middle of a small clearing and comforts her. Suddenly, they hear a violent noise and run from an unseen pursuer. As they're cornered at the edge of a cliff, Hannah slips and falls, grabbing onto Beth. With a stranger reaching his hand out to Beth, the branch Beth is hanging on eventually snaps regardless of her actions, resulting in both girls falling to their apparent deaths, never to be seen again.
On the one year anniversary of the disappearances of Hannah and Beth, the remaining eight friends accept Josh's invitation back to Blackwood Pines and make their way there. As the group separates to partake in their own festivities, their seemingly idyllic getaway begins to quickly turn sinister in more ways than one. ...
Did You Know? "Until Dawn" is said to have over 1,000 different endings, even if an object is picked up, the story will alter. It has a strict auto-save system to prevent players from reloading a previous save file to an earlier point in the game if they regret an in-game decision that they have made.