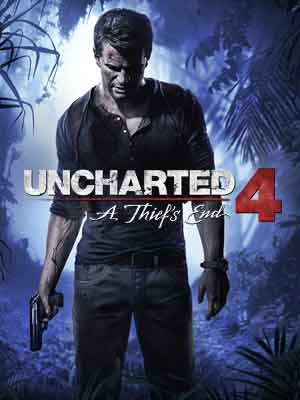 Uncharted 4: A Thief's End (2016)
Directors: Neil Druckmann, Bruce Straley
Writers: Neil Druckmann, Josh Scherr
Writers: Tom Bissell, Ryan M. James
Publisher: Gamer's Little Playground
Runtime: 06:24:17

Set several years after the events of "Uncharted 3: Drake's Deception," "A Thief's End" follows series protagonist Nathan Drake, who has retired from fortune hunting. He reunites with his older brother Sam and longtime partner Sully to search for clues for the location of Captain Henry Avery's long-lost treasure to save his brother.
Nathan "Nate" Drake (Nolan North) and Victor "Sully" Sullivan (Richard McGonagle) enter a pub in London to meet with a man named Talbot (Robin Atkin Downes), who is interested in purchasing Nate's ring belonging to his ancestor Sir Francis Drake. Nate and Sully accuse Talbot of offering them counterfeit banknotes, and a fight ensues. Outside the pub, Nate and Sully are subdued by Charlie Cutter (Graham McTavish), Talbot's cohort. Talbot's client, Katherine Marlowe (Rosalind Ayres), appears and steals Drake's ring. Then Sully and Nate are shot. A flashback to 20 years earlier finds a 14-year-old Nathan Drake (Billy Unger) exploring a museum in Cartagena, in search of Sir Francis Drake's ring, and seeing a younger Sully, unknown to him at this point, who is working with Marlowe to retrieve the ring. Nate is caught by Marlowe and her henchmen, but Sully rescues Nate from the agents and takes the boy on as his protege.
Three years after 'Uncharted 3," Nathan "Nate" Drake (Nolan North) has retired from treasure hunting and works for a salvage company in New Orleans while attempting to enjoy a peaceful life with his wife Elena (Emily Rose), though he misses the life of adventure. One early morning, he is visited at the office by Sam (Troy Baker), who explains that he was saved by doctors and sentenced to life imprisonment for Vargas's death. However, he claims that he was broken out by his cellmate, drug lord Hector Alcazar (Robin Atkin Downes), who gives Sam three months to find the treasure or suffer his wrath. Though reluctant at first, Nate eventually agrees to help Sam while telling Elena that he's taken a salvage job in Malaysia.
After learning of a cross similar to the one in Panama being sold at auction at the Rossi estate in Italy, the two team up with Nate's mentor Victor "Sully" Sullivan (Richard McGonagle) and sneak into the auction to steal it. Also at the auction is Rafe, who has subsequently hired the services of Nadine Ross (Laura Bailey) and her private military company, Shoreline. After several close calls, they manage to steal the cross, inside which is a map hinting that the next clue is not in the St. Dismas cathedral, but the graveyard near it.
Arriving in the Scottish Highlands and sneaking past Shoreline soldiers, Nate and Sam find a series of passages under one of the tombs leading to a room with a scale, ...
Did You Know? "Uncharted 4: A Thief's End" sold more than 2.7 million copies worldwide in the first week after its release, and became the fastest-selling game developed by a first-party Sony studio for the PlayStation 4 in the PAL region and North America.