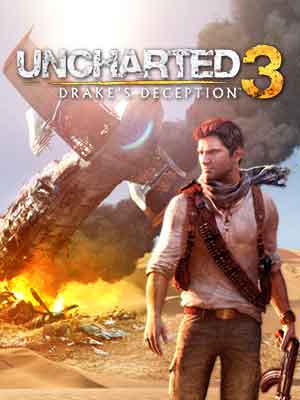 Uncharted 3: Drake's Deception (2011)
Director: Amy Hennig
Writer: Amy Hennig
Publisher: Gamers Little Playground
Runtime: 03:03:42

"Uncharted 3: Drake's Deception" is the sequel to one of the most critically acclaimed video games of 2009, "Uncharted 2: Among Thieves."
Nathan "Nate" Drake (Nolan North) and Victor "Sully" Sullivan (Richard McGonagle) enter a pub in London to meet with a man named Talbot (Robin Atkin Downes), who is interested in purchasing Nate's ring belonging to his ancestor Sir Francis Drake. Nate and Sully accuse Talbot of offering them counterfeit banknotes, and a fight ensues. Outside the pub, Nate and Sully are subdued by Charlie Cutter (Graham McTavish), Talbot's cohort. Talbot's client, Katherine Marlowe (Rosalind Ayres), appears and steals Drake's ring. Then Sully and Nate are shot. A flashback to 20 years earlier finds a 14-year-old Nathan Drake (Billy Unger) exploring a museum in Cartagena, in search of Sir Francis Drake's ring, and seeing a younger Sully, unknown to him at this point, who is working with Marlowe to retrieve the ring. Nate is caught by Marlowe and her henchmen, but Sully rescues Nate from the agents and takes the boy on as his protege.
Returning to the present day, it is revealed that the meeting was an elaborate set-up by Nate and Sully to track down Marlowe, with Cutter being a friend of theirs. With the help of Chloe Frazer (Claudia Black), they trace Marlowe's car to an underground library, where they manage to retrieve T. E. Lawrence's notebook and a map showing Francis Drake's secret voyage to Arabia, where he was commissioned by Queen Elizabeth I to search for the lost city of Ubar. Using these items, Nate works out that clues to the city's location lie in Crusader crypts in a French chateau and a Syrian citadel. Nate and Sully head to eastern France and locate the long-abandoned chateau in a dense forest. They find one half of an amulet inside the crypt, but are ambushed by Talbot, who takes the amulet and sets the chateau on fire. Nate and Sully escape and quickly head to Syria. ...
Did You Know? "Uncharted 3" introduced a desert. "Jak 3," another game developed by Naughty Dog, also introduced and featured a desert in it. This is a aspect both franchises 3rd installments share and introduced. More similarities would be that "Uncharted 3's" box-art resembles the "Jak 3" box-art and both have the main characters standing in the desert with their signature weapons in their hand.