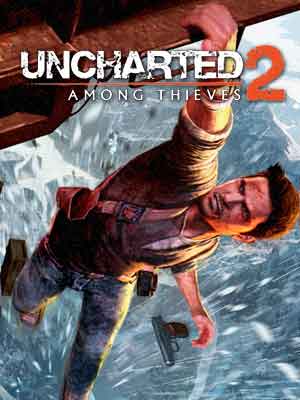 Uncharted 2: Among Thieves (2009)
Directors: Amy Hennig, Sean Stanek
Writers: Amy Hennig, Josh Scherr
Writer: Neil Druckmann
Publisher: Gamers Little Playground
Runtime: 02:31:47

"Uncharted 2: Among Thieves" is the sequel to the 2007 game "Uncharted: Drake's Fortune."
Nathan Drake (Nolan North) escapes wounded from a train hanging off a cliff, before acquiring a phurba in the snow. In a flashback, it is discovered some time ago that to uncover Marco Polo's doomed voyage from China in 1292, Nate agreed to steal a Mongolian oil lamp which belonged to Polo from an Istanbul museum, with former associate Harry Flynn (Steve Valentine) and old girlfriend Chloe Frazer (Claudia Black). The lamp contains flammable blue resin, which lights a map that shows Polo's fleet shipwrecked in Borneo, carrying the Cintamani Stone from Shambhala. Taking the map, Flynn double-crosses Drake, who is imprisoned. Three months later, Chloe helps free Drake with the help of old friend Victor Sullivan (Richard McGonagle) and reveals that Flynn is working for Zoran Lazarević (Graham McTavish), a former Soviet intelligence operative turned warlord, who is after the stone. Drake and Sully, with Chloe in Lazarević's group as a mole, go after it themselves.
Infiltrating Lazarević's camp in Borneo, they discover the stone remains in Shambhala, having never been taken. A tomb contains the remains of Polo's crew, where Nate finds a Tibet phurba and deduces that its carrier will gain passage to Shambhala through a temple in Nepal. Nate and Sully escape after being found by Flynn and his men. Sully backs out, so Nate and Chloe continue to Nepal, ravaged by Lazarević's mercenaries in search of the temple. There, they encounter journalist Elena Fisher (Emily Rose) and cameraman Jeff (Gregory Myhre) reporting on Lazarević. The four reach the temple, where Nate and Chloe use the phurba to discover that Shambhala lies in the Himalayas. After he is shot in an ambush, Chloe insists on leaving Jeff behind, but Nate and Elena help him and are caught by Lazarević. Chloe switches sides to protect her cover, while Lazarević kills Jeff and gets the Shambhala location from Drake, who escapes with Elena. ...
Did You Know? Nathan Drake was modeled after the actor/stuntman Johnny Knoxville.