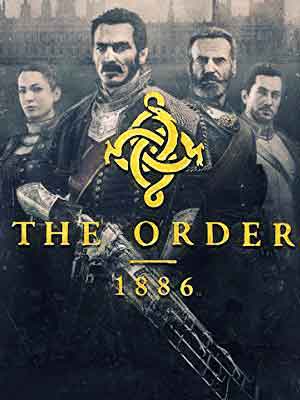 The Order: 1886 (2015)
Directors: Dana Jan, Ru Weerasuriya
Writers: Kirk Ellis, Ru Weerasuriya
Publisher: Gamers Little Playground
Runtime: 03:08:00

"The Order: 1886" is set in an alternate history London, where an old order of knights keep all of the world safe from half breed monsters, who are a combination of animal and man. Around the seventh or eighth centuries a small number of humans took on bestial traits. The majority of humans feared these half-breeds and war broke out. Despite the humans outnumbering the half-breeds, their animal strength gave them the upper hand in centuries of conflict. Centuries earlier, humanity finds new hope in King Arthur and the Knights of the Round Table. King Arthur and his like-minded knights take the fight to the half breeds, but Arthur soon realizes it's a losing battle. Through a mysterious turn of fate, the Knights discover Blackwater, a mystical liquid that significantly extends their lifetimes and gives them remarkable healing abilities. Despite this new advantage, the half-breeds continue to win battle after battle, until the Industrial Revolution turns the tide.
During the autumn of 1886 London is plagued by both half-breed attacks and an anti-government insurgency. After fighting off rebels in Mayfair, Sir Galahad pursues the survivors into the Underground where he encounters a number of werewolf-like half-breeds known as Lycans. Galahad's mentor, Sir Percival, one of the Order's most veteran knights, suspects that there is a correlation between the two and requests permission to investigate the rebel stronghold of Whitechapel. His concerns are dismissed by the Lord Chancellor, who believes that the Order should remain dedicated to fighting half-breeds.
With tacit approval from Sir Lucan, the Order's Knight Commander and adopted son of the Lord Chancellor, Percival and Galahad undertake a mission into Whitechapel accompanied by the other two members of their team, Lady Igraine and the Marquis de Lafayette. After encountering fierce resistance they reach the rebel headquarters in the abandoned Royal London Hospital, only to find it occupied by Lycans. Galahad and Igrane discover evidence of a rebel plot to infiltrate the Agamemnon, flagship of the United India Company's airship fleet, and assassinate the company chairman Lord Hastings, a frequent guest to the Round Table. The team boards the airship and foils the assassination attempt before a bomb detonates on board. Hastings and most of the passengers are evacuated, but Galahad and Percival remain on board to search for the rebel leader. A second explosion sends the Agamemnon crashing into Hyde Park, destroying the Crystal Palace in the process. Galahad survives but discovers that Percival has been killed. ...
Did You Know? The retail version of "The Order: 1886" was the best selling game in its week of release in the UK and Ireland, debuting at No. 1 in the UK retail software sales chart. This made it the first game developed by Sony's in-house team to take the first spot in the chart since August 2014.
---