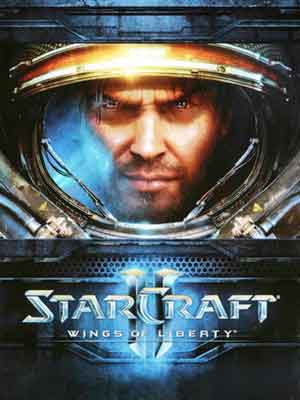 StarCraft 2: Wings of Liberty (2010)
Writer: Chris Metzen
Writer: Brian Kindregan
Publisher: iampanax
Runtime: 03:01:21

"StarCraft 2: Wings of Liberty" is a sequel to the award-winning 1998 "StarCraft." It is split into three installments: the base game with the subtitle "Wings of Liberty," an expansion pack "Heart of the Swarm," and an expansion pack "Legacy of the Void."
Four years after the Brood War, the Dominion is once again the dominant Terran power in the Koprulu sector. News reports reveal that in the four years since the end of the Brood Wars the standing Dominion military forces have been reduced and trillions have been spent hunting down rebel forces that operate against the Dominion. For reasons unknown, Kerrigan gathered the swarm at Char and then vanished from sight. With the Zerg gone, the Protoss have once again taken a passive role in the galaxy. Jim Raynor has formed a revolutionary group named Raynor's Raiders in order to overthrow Dominion Emperor Arcturus Mengsk. On Mar Sara, Raynor meets with an old comrade, Tychus Findlay. Together, they liberate the local population from Dominion control and also discover a component of a mysterious Xel'Naga artifact. As the Zerg begin to overrun Mar Sara, Raynor arranges an evacuation to his battlecruiser, the Hyperion, captained by Matt Horner.
The Raiders embark on a series of missions to find the remaining pieces of the Xel'Naga artifact, which they sell to the enigmatic Moebius Foundation in order to fund their revolution. Along the way, they meet with Gabriel Tosh, a rogue Dominion psychic assassin known as a Spectre, and Ariel Hanson, a researcher on the Zerg and leader of a small farming colony. The Raiders perform missions to help Tosh procure the raw materials to train new Spectres. They also aid Hanson as she attempts to secure her colonists who are caught between the Zerg infesting their planets and the Protoss attempting to eradicate the infestation. Horner also arranges a series of missions to undermine Mengsk, recovering intelligence information about his war crimes and broadcasting them to the Dominion. Finally, Zeratul sneaks aboard the Hyperion to deliver a psychic crystal which allows Raynor to share visions involving an ominous prophecy where Zerg-Protoss hybrids and an enslaved Zerg swarm wipe out Humanity and the Protoss. The vision reveals that only Kerrigan has the power to prevent the eradication of all life in the sector and beyond. ...
Did You Know? The first large StarCraft II tournaments occurred during the beta testing phase, the most notable being the HDH Invitational and Day's King of the Beta. Currently the largest professional tournament is the GSL (GomTV Star League) which is a monthly tournament held in South Korea. The tournament enjoys major corporate sponsorships and prize pools of over $100,000.