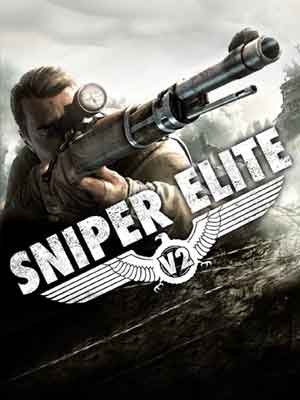 Sniper Elite V2 (2012)
Writer: Scott Andrews
Publisher: Ray Sotnais
Runtime: 02:34:00

"Sniper Elite V2" story follows an American Office of Strategic Services officer who must capture or eliminate the scientists involved in the German V-2 rocket program while the Red Army invades.
The story centers on Karl Fairburne, an OSS officer who is inserted into Berlin in 1945, during the final days of World War II. It references Operation Paperclip and its predecessor Operation Overcast, the plan by the USA to recruit the scientists of Nazi Germany. Fairburne comes up against both Nazi and Soviet opponents as he tracks key individuals involved with the development of the V-2 ballistic missile.
"Sniper Elite V2" begins with Fairburne sent into Berlin to first assassinate German Major-General Hans von Eisenberg who was attempting to defect to the Soviets. Shortly after, he is given the mission to eliminate Doctor Gunther Kreidl, a Nazi scientist who is being led out of the city in a convoy. After laying an ambush, Fairburne escapes with the doctor's personal documents revealing further information about the V-2 rocket program including the location of other scientists. As the only American within the region, he is sent to the outskirts of the city to infiltrate a V-2 production facility in search of another scientist, Dr. Schwaiger. While the scientist is absent, Fairburne learns that he originally made plans to defect to the United States, before sabotaging and escaping the facility. US intelligence then sends him into Opernplatz where the Soviets are in full invading force. As the Soviets and Germans engage one another, Fairburne slips by and saves Schwaiger from being executed by Nazi officers after his plan to defect were discovered. However in the ensuing firefight, Schwaiger is mortally wounded and in his dying words states that "Wolff has a plan" and the unknown word "tabun." ...
Did You Know? Official Xbox Magazine reviewer Chuck Osborne said that the "X-Ray Kill Cam" feature "earns the game's Mature rating and our applause" while Tim Turi of Game Informer called it the game's "standout feature" that "never got old". GameSpot reviewer Chris Watters called the feature "brutal and gratuitous (perhaps too much so, for some)" yet still enjoyed it as a "delightfully gory" highlight. Marsh Davis of Eurogamer echoed this view by stating that "Its appeal is most definitely crass but, oddly, these animations also give each enemy's death a ghoulish significance.