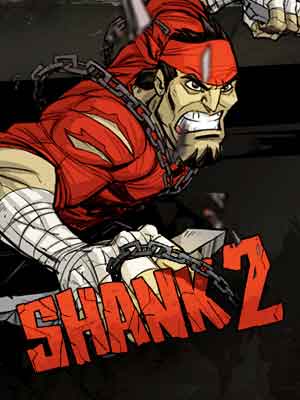 Shank 2 (2012)
Writers: Jeff Agala, Jamie Cheng
Writer: Marianne Krawczyk
Publisher: Caraca Games
Runtime: 00:40:00

After the death of cartel leader Cesar at the end of the first game, "Shank", Shank's homeland has been engulfed by warfare as various factions attempt to take control. General Magnus has emerged victorious, and his militia now rules with an iron fist. They have overthrown the government and Magnus has declared himself President, taking over much of the cartel's criminal activities.
The rebellion against the militia is being led by Shank's old mentor, Elena. At the game's opening she is kidnapped by the militia's forces; unbeknownst to the majority of the population, Magnus is gravely ill, and he needs a heart transplant if he is to survive. He intends to take Elena's heart, a process which will kill her. Shank must fight his way through Magnus's army in order to rescue his mentor and once more overthrow a despot. ...
Did You Know? "Shank 2" also features a playable female character, Corina. Though she still uses the same arsenal of weapons as Shank but she has faster movement but weaker attacks which involves acrobatic motions over brute strength.