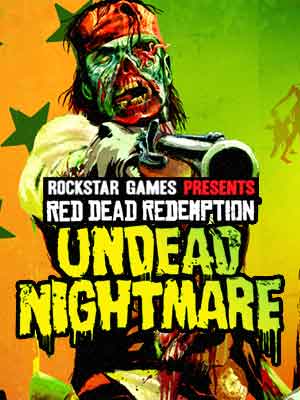 Red Dead Redemption: The Undead Nightmare (2010)
Director: Rod Edge
Writer: Dan Houser
Writer: Michael Unsworth
Writer: Christian Cantamessa
Publisher: NATURALSMASHA
Runtime: 01:16:21

Experience a supernatural twist to the narrative arc of the original story from "Red Dead Redemption." John Marston is alone in the world, to save his family this time he must find an antidote to the horrors that threaten the existence of humanity. Towns and settlements are under attack from hordes of undead, with small, isolated pockets of human survivors huddling together for protection. John must rescue survivors and try to turn the tide against the onslaught from beyond the grave if there is to be any hope. Ammunition is at an absolute premium. As the undead plague takes over the land, there is no more game to shoot and besides, every last bullet needs to be saved to fight the undead encroaching on the last bastions of human sanctuary. But what is the source of this hellish blanket of destruction and how can it be reversed? Rumors abound among the cowering survivors, and John must choose who to believe. Trapped in a living nightmare, John must travel far and wide in search of an answer.
At the Marston Ranch, an undead Uncle (Spider Madison) attacks Abigail Marston (Sophie Marzocchi). Her husband John Marston (Rob Wiethoff) kills Uncle, but Abigail turns into a zombie and bites their son Jack (Josh Blaylock), infecting him. John hogties both of them, locking them inside the house. At Blackwater, which has been overrun by the undead, some survivors tell John about their theories about the cause of the outbreak. John investigates the theories, leading him to Seth Briars (Kevin Gilkmann), who informs John to travel to Mexico, and Nigel West Dickens, who discovers an entrance into Mexico. In Mexico, John meets Mother Superior, a nun, who tells him of a theory that Abraham Reyes (Josh Segarra) caused the outbreak...
Did You Know? At the 2010 Spike Video Game Awards, "Red Dead Redemption: The Undead Nightmare" was awarded as the Best DLC (downloadable content) for 2010 video games.