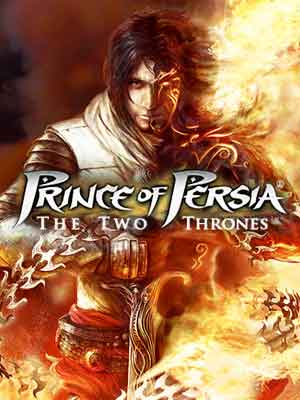 Prince of Persia: The Two Thrones (2005)
Director: Kun Chang
Writer: Corey May
Writer: M. Dooma Wendschuh
Publisher: World of Longplays
Runtime: 04:59:47

"Prince of Persia: The Two Thrones" follows the second ending of "Prince of Persia: Warrior Within," in which the Prince kills the Dahaka, essentially saving Kaileena. This is the closing chapter in the "Sands of Time" saga.
After the events of the previous game, the Prince and Kaileena return to Babylon. As the Prince's vessel nears the shores of the city, he removes the medallion from his chestplate and drops it into the sea. Upon returning to Babylon, he is horrified to find that the city is currently being ravaged by war. His ship is attacked and he and Kaileena are thrown overboard, with Kaileena taken prisoner after drifting ashore. He then tries to rescue Kaileena, but ultimately, finds his old enemy the Vizier once again alive and is held prisoner while the Vizier kills Kaileena with the Dagger of Time, unleashing the Sands of Time once more and taking them into the Dagger. The Vizier then impales himself with the Dagger, making himself immortal. The Prince is also affected, having a whip-like weapon known as a Daggertail embedded in his skin when the Sands infect the wound. However in the confusion of his transformation the Vizier drops the Dagger and the Prince manages to steal it and escape before he is totally infected by the Sands.
Through mischance during his escape, the Prince finds himself cast into the sewers and carried to the outskirts of Babylon. As the Prince travels through the city once again to kill the Vizier, he realizes that by taking Kaileena from the Island of Time, his adventures in Azad never happened, thus, he never killed the Vizier. He also finds that his infection by the Sands of Time have affected his mind. He has essentially been split into two personalities: one which, for the most part, strives to do good, although is fueled by vengeance, and the Dark Prince (voiced by Rick Miller), manifested by an internal voice that speaks to the Prince. The Dark Prince is cold, cruel, arrogant, and sarcastic, and attempts to convince the Prince that they are the same person, and that the Prince should strive to serve only himself, using the Prince's vengeance as a catalyst for his other emotions. On many occasions, the Dark Prince seizes control of the Prince's body and the Prince is fully transformed into a kind of hybrid sand monster with abilities that allow the Prince to pass otherwise insurmountable obstacles. ...
Did You Know? Before entering the elevator, Farah remembers hearing that a similar device is found in Azad, a place she hopes to visit once. This is a nod to the first "Prince of Persia: The Sands of Time" (2003), when both Farah and the Prince were in Azad (but Farah does not remember that, because the Prince changed the time line).