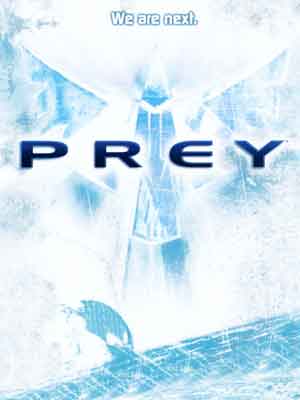 Prey (2006)
Director: Chris Rhinehart
Writer: Jason L. Blair, Gary Whitta
Writer: Dean Orion, David Freeman
Publisher: Gamer's Little Playground
Runtime: 01:38:29

"Prey" focused on Cherokee Domasi "Tommy" Tawodi as he, his girlfriend, and grandfather are abducted aboard an alien spaceship known as The Sphere as it consumes material, both inanimate and living, from Earth in order to sustain itself. Tommy's Cherokee past allows him to let his spirit roam freely at times, and gives Tommy an edge in his attempt to stop the Sphere.
The story focuses on Domasi Tawodi (also known as "Tommy"), a Cherokee garage mechanic and former U.S. Army soldier living on a Native American reservation in Oklahoma. At the beginning of the game, Tommy is in a bar owned by his girlfriend, Jen. Tommy is tired of living on the reservation, and constantly tries to push his heritage away, while at the same time trying to convince Jen to leave home, if only for a short while, to which she refuses steadfastly. After an unfortunate bar fight, the entire building is lifted up by a gravitational force into a green light above. Tommy, Jen, and Tommy's grandfather, Enisi, are transported skyward to the massive alien starship called the Sphere. After docking, all three, along with countless other captives, are dragged through the upper levels of the Sphere. Tommy is freed in an explosion set off by a stranger who, despite being cybernetic like most of the Sphere's denizens, appears to be working against it rather than for it.
Tommy witnesses Enisi's death in a brutal alien device. While trying to find Jen, he falls from a walkway and has a near-death experience to The Land of The Ancients where he meets with his grandfather's spirit who bestows him with spiritual powers. After returning to the world of the living, Tommy gains the ability to spirit-walk, allowing him to separate from his body to pass through forcefields and operate consoles normally out of reach, as well as the aid of his spirit guide, the ghost of his childhood pet hawk, named Talon. Despite being entrusted by his ancestor's spirits with the mission to protect all of mankind from the sphere's invasion, Tommy cannot stop worrying about Jen, and he only cares about how to find and rescue her.
Did You Know? "Prey" has been in development for nearly fifteen years. 3D Realms originally announced Prey in 1995, but after several years of development it was put on hold in 1999. Technical difficulties were cited, and one of the game programmers commented that "Prey's" most highly touted feature, 'portal tech' was just too ambitious for its time. Portal tech was a feature that could dynamically create rips in space allowing portals to be generated on-the-fly. In 2001, 3D Realms quietly restarted development of "Prey," this time outsourcing it to a development group called Human Head Studios, and using the new Doom 3 graphics engine that was created by "id Software." However, 3D Realms did not officially confirm the reemergence of "Prey" until early 2005.