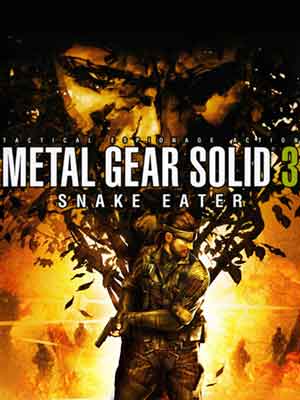 Metal Gear Solid 3: Snake Eater (2004)
Director: Hideo Kojima
Writer: Hideo Kojima
Writer: Tomokazu Fukushima
Writer: Shuyo Murata
Publisher: Kefka Production
Runtime: 03:23:34

"Metal Gear Solid 3: Snake Eater" is a prequel to the entire Metal Gear series. Set in the Cold War-era Soviet Union, the story centers on FOX operative Naked Snake as he attempts to rescue a weapons designer, sabotage an experimental superweapon, and assassinate his defected former boss.
"Metal Gear Solid 3: Snake Eater" is set during the Cold War in 1964, where a CIA agent, codenamed "Naked Snake", is sent to the jungles of Tselinoyarsk, in the USSR. Aided over radio by Major Zero, Para-Medic, and his former mentor The Boss, his mission is to rescue a defecting Soviet scientist named Sokolov who is secretly developing an advanced nuclear-equipped tank called the "Shagohod". The mission goes smoothly until The Boss defects and provides her new benefactor, Colonel Volgin, with two Davy Crockett miniature nuclear shells. Sokolov is captured by Cobra Unit and Snake is heavily injured and thrown off a bridge by The Boss, allowing Volgin and his cohorts to escape with Sokolov. Volgin detonates one of the nuclear shells to cover up its theft, which is subsequently blamed on The Boss. Snake is recovered using the Fulton Recovery System.
Having detected the U.S. aircraft which deployed Snake flying over Soviet soil, the Soviet Union declares the United States responsible for the nuclear attack, tipping both nations to the edge of a nuclear war. In a secret conference between U.S. President Lyndon B. Johnson and Soviet Premier Nikita Khrushchev, a deal is hatched to prove the U.S.'s innocence and restore peace.[31] The United States agrees to stop Volgin's renegade faction, destroy the stolen Shagohod and eliminate the American defector, The Boss.
A week after being rescued from the region, Snake is redeployed into the Soviet jungle as part of "Operation: Snake Eater",[32] to fulfill the United States' promises. During the mission, he gains the assistance of another American defector, ex-NSA agent EVA, who defected a few years earlier (though he is informed he would be helped by ADAM, who defected with her).[33] After numerous encounters with the elite Ocelot Unit (led by a young Revolver Ocelot), and defeating nearly every member of Cobra Unit, Snake succeeds in locating Sokolov and the stolen Shagohod, only to be captured in Volgin's military fortress, Groznyj Grad. After listening to Volgin brutally beat Sokolov to death, Snake is tortured and has his eye severely injured by Ocelot while protecting EVA from Ocelot, who was attempting to kill her; Snake ultimately escapes. ...
Did You Know? After the release of (2001) "Metal Gear Solid 2: Sons of Liberty," Hideo Kojima said that he would not direct this game. He wanted a member of his team at Konami to replace him, but none of them wanted to, so he was forced to change his mind and direct after all.