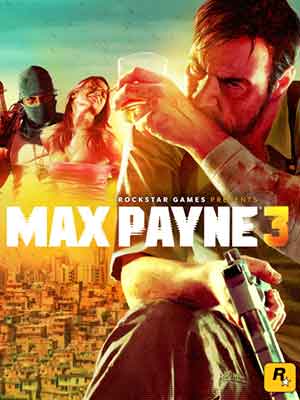 Max Payne 3 (2012)
Director: Rod Edge
Writer: Dan Houser
Publisher: Gamers Little Playground
Runtime: 03:24:49

"Max Payne 3" takes place nine years after the events of "Max Payne 2: The Fall of Max Payne," Max finds himself living a degenerative lifestyle, addicted to painkillers and alcohol in the city of Sao Paulo, Brazil, while trying to forget the past that haunts him. Employed by real estate mogul Rodrigo Branco, Max works in private security, protecting the wealthy Branco family. But as things go wrong and Rodrigo's wife Fabiana is kidnapped, Max is forced into a deadly new conflict, while relying on the abilities he attained from the experiences of the past he left behind.
Nine years after the events of "Max Payne 2: The Fall of Max Payne," Max Payne (James McCaffrey) has been dismissed from the NYPD and spends his days at a bar in Hoboken, New Jersey, nursing his alcoholism and an addiction to painkillers. One night, a man named Raul Passos (Julian Dean) approaches Max and offers him a new job, which Max turns down. Later, during a drunken argument, Max kills the son of local mob boss Anthony DeMarco (Ray Iannicelli), who puts a price on his head. After killing most of DeMarco's gang with Passos' help, Max decides to leave his old life behind, taking Passos' job offer as a private security contractor in South America.
Max and Passos work for the wealthy Branco family in Sao Paulo, consisting of three brothers: Rodrigo (Frank Rodriguez), a real-estate mogul; Victor (Robert Montano), a local politician who aspires to be the city's next mayor; and Marcelo (Dillon Porter), a hard-partying socialite. At a private party, Max saves Rodrigo and his young wife Fabiana (Benedita Pereira) from an attempted kidnapping by members of the Comando Sombra, a favela street gang. A few nights later, as Max escorts Fabiana and her friends to a nightclub, the gang strikes again, successfully kidnapping Fabiana and demanding a ransom of $3 million.
Max and Passos deliver the ransom to a local football stadium to make the exchange, but the deal is interrupted by the Cracha Preto, an outlaw, right-wing paramilitary unit, who kill the Comando Sombra and steal the money. After escaping the stadium, Max and Passos raid a Comando Sombra base along the Tiete river to rescue Fabiana, but are unable to prevent the gang's leader, Serrano, from escaping with her. After they report their failure to the Brancos, Victor suggests they rely on Armando Becker (Ubirajara de Castro) and his special police unit Unidade de Forcas Especiais (UFE) to oversee Fabiana's safe return. Victor, Passos, Marcelo and Becker leave via helicopter, moments before the Cracha Preto abruptly raid the Branco offices. Max fights off the Cracha Preto and returns to Rodrigo's secured office to find him assassinated. ...
Did You Know? The Face of Max Payne is different in every game. The model in "Max Payne" was Sam Lake the head writer of the first two Max Payne games. In "Max Payne 2" the role was given to actor Timothy Gibbs. In "Max Payne 3," the model was James McCaffrey, who was the voice actor for Payne in all three games.