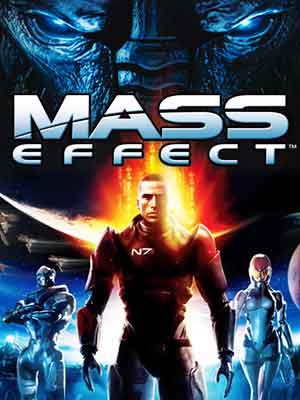 Mass Effect (2007)
Director: Casey Hudson
Writer: Drew Karpyshyn
Publisher: Gamers Little Playground
Runtime: 03:45:48

The first story, "Mass Effect," in the trilogy centers on a player-created character named Commander Shepard, with the mission to save the galaxy from a race of mechanical beings known as the Reapers and their followers, including Saren Arterius. "Mass Effect" sees Shepard facing Sovereign, a Reaper left as a vanguard, who plans to allow the Reaper fleet currently hibernating in extra-galactic dark space to invade the Milky Way, and destroy all sentient organic life, continuing a mysterious cycle of destruction. The second story, "Mass Effect 2," takes place two years later, and sees Shepard battling the Collectors, an alien race abducting entire human colonies in a plan to help the Reapers return to the Milky Way. The final stroy, "Mass Effect 3," of Shepard's trilogy centers on the final battle against the Reapers.
"Mass Effect" takes place in the year 2183. Thirty-five years earlier, humankind discovered a cache of technology on Mars, supposedly built by a technologically advanced but long-extinct race called the Protheans. Studying and adapting this technology, humanity has managed to break free of the solar system and has established numerous colonies and encountered various extraterrestrial species within the Milky Way galaxy. Utilizing alien artifacts known as Mass Relays, the various space-faring races are able to travel instantly across vast stretches of the galaxy. Within the game, humanity has formed the Human Systems Alliance, one of many independent bodies that make up the collective of "Citadel space".
The Human Systems Alliance is a rising power in the galactic stage. The only war they have participated in was the "First Contact War" in 2157. A human exploration expedition was activating dormant mass relays (which was a practice considered unsafe by Citadel races, as it resulted in the Rachni Wars described below). The turians attacked the small fleet and proceeded to capture the closest human world, Shanxi. The turians proceeded to starve out the remaining humans and occupy the planet. Facing starvation the human garrison surrendered to the Turian Hierarchy. One month later, the human Second Fleet responded by annihilating the turian fleet around Shanxi. In response the turians prepared for full scale war. The Citadel Council saw that humanity would either be annihilated or annexed by the turians and stepped in. The humans were then given an embassy in the Citadel Council. ...
Did You Know? When landing on Earth's moon one can find the wreckage of a probe called "CCCP Luna 23". The Luna 23 is a Russian probe that was sent to the moon in 1974 to bring rock samples back to Earth. It was damaged during it's landing and stranded on the surface.