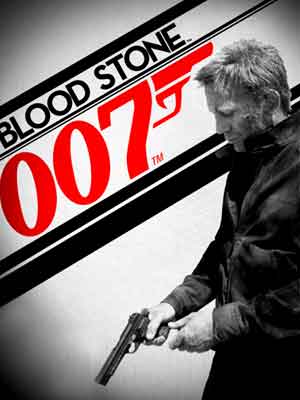 James Bond 007: Blood Stone (2010)
Writer: Bruce Feirstein
Publisher: Gamers Little Playground
Runtime: 01:15:52

"James Bond 007: Blood Stone" takes place few years after the events of "Quantum of Solace." It starts with Greco (Luis Soto), an international terrorist planning a suicide attack on the G-20 Summit at the Acropolis structure in Athens. M (Judi Dench) sends Bond (Daniel Craig) to investigate and prevent an attack from occurring. After a brief encounter with Greco on his yacht, Bond pursues him through Athens by boat and then on foot. After a second confrontation with Greco which ends with Greco left alive, Bond stops a bomb-laden car destined for the Acropolis structure by knocking it off the road with an Aston Martin DBS V12 he had commandeered, saving the G-20 summit from potential disaster.
The next morning, Bond is assigned to rescue a missing professor, Malcolm Tedworth. Tedworth was originally feared dead until an anonymous tip and tracing of his cell phone led MI6 to an Istanbul construction site. Bond investigates the area that Tedworth's phone signal was lost in. In the catacombs, Tedworth is interrogated by a man called Bernin who demands the password to a USB drive. Tedworth submits to the torture and is promptly executed. Bond interrupts, pursuing Bernin by Aston Martin DB5, and on foot, the chase ending at an old coliseum. Bernin however manages to get the data extracted, only to reveal Stefan Pomerov's name to Bond before being slowly pushed off a ledge by Bond after attempting to kill him. After learning that Pomerov is going to be in Monaco, Bond travels to Nice, meeting with his contact, a wealthy jewellery designer (and MI6 agent) named Nicole Hunter (Joss Stone). ...
Did You Know? Actors from the official James Bond movie series that voice parts in this James Bond video-game include Rory Kinnear (Tanner); Judi Dench (M) and Daniel Craig (James Bond). Plus the story of "James Bond 007: Blood Stone" is not based on any previous Bond movie and has an original story scripted by Bruce Feirstein who co-wrote GoldenEye (1995).