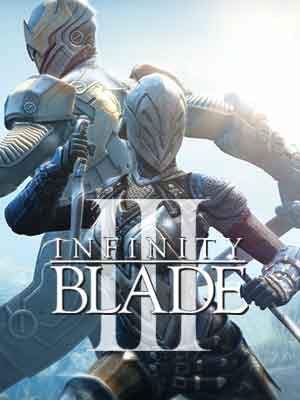 Infinity Blade 3 (2013)
Director: Donald Mustard
Trent Halvorsen
Simon Hurley
Donald Mustard
Geremy Mustard
Brandon Sanderson
Publisher: Apps4Gamers.Com
Runtime: 00:22:29

"Infinity Blade 3" is the finale of the Infinity Blade trilogy, Siris and Isa must locate and stop the Worker of Secrets, before he and his army of Deathless destroy the world. They find allies to help them, and from their new headquarters they plan and execute their campaign against the Deathless. But in the end, it all comes down to their skill with a blade, their desire to win, and their belief in redemption.
Having escaped the Vault in "Infinity Blade: Redemption," Radriar, armed with the Infinity Blade, confronts the Worker, and realizes that he has been creating more Infinity Blades to keep the Deathless busy while he enacts his plan. After he defeats Radriar in battle, the Worker clarifies his plan to "cleanse" the planet to destroy all in the planet and start anew and offers Radriar a chance to join him. Radriar refuses and, knowing Siris is the only one who can defeat the Worker, sacrifices himself by teleporting the Worker's datapad away. Infuriated, the Worker impales Radriar with an Infinity Blade, permanently killing him. Meanwhile, Siris' companion Isa is revived as a Deathless following an attack by the Worker.
Siris travels to Radriar's castle to retrieve the datapad, but he realizes that he has been replaced by a soulless Radriar, who is killed by Siris. After retrieving the datapad and the soulless Radriar's weapon, the Infinity Cleaver, he returns to Isa, where the two theorize that the Worker has been forging more Infinity Blades. Isa ventures to the desert, where she uncovers a vault which was used to store all the Infinity Blades, and gains information from Terrovax, the High Lord of House Burke, about the other weapons. ...
Did You Know? Continuing their successful collaboration from "Infinity Blade 2," the developers at Chair and author Brandon Sanderson co-wrote the story for "Infinity Blade 3." Sanderson also wrote a second novella, set between the second and third games, titled "Infinity Blade: Redemption."