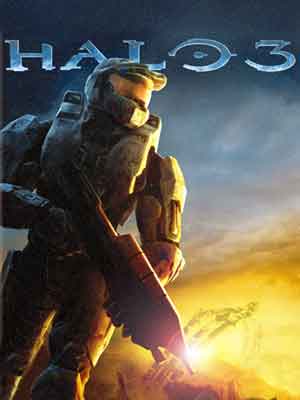 Halo 3 (2007)
Writer: Joseph Staten
Writer: Rob Stokes
Publisher: Gamers Little Playground
Runtime: 01:21:16

"Halo 3" is the third installment in the "Halo" franchise, "Halo 3" concludes the story arc begun in "Halo: Combat Evolved" and continued in "Halo 2."
After the events of the comic tie-in "Halo: Uprising," the Master Chief crashes in eastern Africa, where he is found by Johnson and the Arbiter. The Chief, Johnson, and company fight Covenant in the jungle and arrive at a UNSC outpost. Here, Keyes and Lord Hood plan a final effort to stop the Covenant leader, the High Prophet of Truth, from activating a Forerunner artifact uncovered outside the ruins of the city of New Mombasa. The Chief clears anti-air Covenant defenses so Hood can lead the last of Earth's ships against the Prophet, but Truth activates the buried artifact, creating a slipspace portal which he and his followers enter. A Flood-infested ship crash-lands nearby; Elite forces arrive and vitrify Flood-infected areas of Earth, stopping the threat. Following a message Cortana left aboard the Flood ship, the Chief, Arbiter, Elites, Johnson, Keyes and their troops follow Truth through the portal. Joining them is 343 Guilty Spark, who aids the Chief as he has no function to fulfill after the destruction of his ringworld.
Traveling through the portal, the humans and Elites discover an immense artificial structure known as the Ark, far beyond the edges of the Milky Way galaxy. Here, Truth can remotely activate all the Halos. The Flood arrive aboard High Charity in full force, beginning to infest the installation. Truth captures Johnson, as he needs a human to use Forerunner technology. Keyes is killed attempting a rescue, and Johnson is forced to activate the rings.[35] Gravemind forges a truce with the Chief and Arbiter to stop Truth. The Arbiter, Master Chief, and Flood forces arrive and overwhelm Truth's guards, rescuing Johnson and halting the installations' activation. After the Arbiter kills Truth, Gravemind turns on the Chief and Arbiter.
The Chief, Arbiter and Guilty Spark discover that the Ark is constructing another Halo to replace the one that the Chief previously destroyed. The Chief decides to activate this Halo; the ringworld would eliminate the Flood infestation on the Ark while sparing the galaxy at large from destruction. ...
Did You Know? "Halo 3" is the first halo game where a level doesn't take place in a functioning ship or space station.