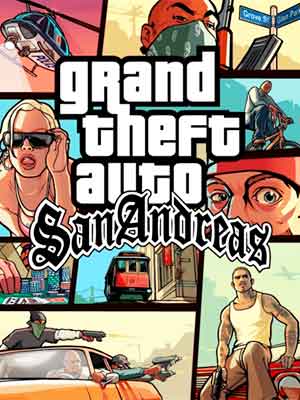 Grand Theft Auto: San Andreas (2004)
Director: Dan Houser
Director: Navid Khonsari
Writer: Dan Houser
Writer: James Worrall
Writer: DJ Pooh
Publisher: NRMGAMINGHD
Runtime: 03:51:34

"Grand Theft Auto: San Andreas" takes place in the semi-fictional state of San Andreas (based on California and Nevada), which contains three metropolitan cities: Los Santos, based on Los Angeles, San Fierro, based on San Francisco, and Las Venturas, based on Las Vegas. Set in 1992, San Andreas revolves around the gang member Carl "CJ" Johnson returning home from Liberty City to Los Santos, San Andreas, after learning of his mother's murder. CJ finds his old friends and family in disarray. Over the course of the game, CJ gradually unravels the plot behind his mother's murder.
In 1992, Carl "CJ" Johnson returns to Los Santos after spending five years living in Liberty City when his brother Sean "Sweet" Johnson calls to inform him of their mother's murder. Shortly after leaving the airport, CJ is intercepted by a group of corrupt LSPD C.R.A.S.H. officers led by Frank Tenpenny, and consisting of two officers, Eddie Pulaski and Jimmy Hernandez, with whom CJ has a history. Tenpenny implicates CJ in the murder of a police officer, Officer Pendlebury, that Tenpenny himself committed, as he was on the verge of exposing him, and threatens to frame him for it if he does not co-operate with them.
CJ returns to his former home on Grove Street and reunites with his brother Sweet, his sister Kendl, and members of his old gang, Big Smoke and Ryder. Finding that the Grove Street Families (GSF) have lost much of their territory while he was gone, CJ decides to stay in town. Working with the others to re-establish the GSF, CJ gradually restores the gang to power, by helping to reunite the various Grove Street sets who had previously splintered, allying himself with Kendl's boyfriend, Cesar Vialpando, leader of the Varrios Los Aztecas, and together they drive off the rival Ballas and Vagos gangs, reducing the amount of drugs on the streets. In doing so, CJ regains the respect of Sweet, who was disappointed that he had left Grove Street after the death of their brother, Brian.
While en route to join Sweet for a showdown against the Ballas, CJ is called by Cesar, who tells him to meet with him outside a garage where they witness Smoke and Ryder meeting with Tenpenny and a group of Ballas, learning that they had been working with Tenpenny all along, and were responsible for his mother's murder, explaining their suspicious behaviour. Suspecting a set-up, CJ rushes to Sweet's aid, who was wounded in the ambush, and fights off the Ballas, but the police arrive shortly afterward. Sweet is thrown in jail while Tenpenny takes CJ into the countryside and dumps him there. With the GSF in shambles, Smoke and Ryder, now openly allied with the Ballas, take over Los Santos and flood the streets with drugs. ...
Did You Know? "Grand Theft Auto: San Andreas" contains many references to the popular '90s hood film "Boyz n' The Hood." Some characters in the game are visually and/or mentally based on characters from the film, as well as some events that take place.