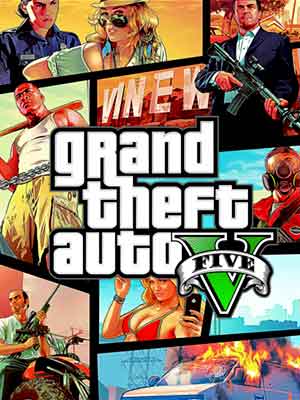 Grand Theft Auto 5 (2013)
Director: Rod Edge
Writer: Dan Houser
Writer: Rupert Humphries
Writer: Michael Unsworth
Publisher: Gamers Little Playground
Runtime: 07:19:41

"Grand Theft Auto 5" follows three characters with interconnected stories. Michael is a retired former bank robber in his early forties who lives with his dysfunctional family on the proceeds of his former life in the upper-class suburb of Rockford Hills, based on Beverly Hills. Trevor, his former partner in crime, lives alone in a trailer in the desert of Blaine County, where his reckless and psychopathic behaviours are fuelled by drug addiction. Franklin makes a living in Vespucci Beach—based on Venice Beach—as a repo man for an unscrupulous Armenian car dealership. The three acquaintances are drawn into Los Santos' criminal underworld "in the pursuit of the almighty American dollar."
"Grand Theft Auto 5" starts with a botched robbery in Ludendorff, North Yankton that left two of his accomplices dead and forced a third into hiding, former bank robber Michael Townley is living under witness protection with his family in Los Santos, San Andreas, adopting the pseudonym Michael De Santa. Franklin Clinton, who works as a repo man for a car dealership alongside his friend Lamar Davis, is asked to reclaim a car from Michael's teenage son, Jimmy, who is overdue on his loan payment. Correctly deducing that his son is about to become a victim of credit fraud, Michael confronts Franklin and orders him to crash the car through the dealership. Franklin is fired, but he and Michael become friends. When Michael discovers his wife Amanda in bed with her tennis coach, he and Franklin chase the man to a mansion, which Michael destroys out of anger. However, the mansion belongs to Mexican drug lord Martin Madrazo, who demands compensation. They acquiesce, paying their debt with Madrazo using money earned from a jewellery shop heist. Trevor Philips, the only other survivor of the Ludendorff robbery, hears about the heist and, realising that the perpetrator could be no other than Michael himself, reunites with his former partner after tracking him down to Los Santos.
The personal lives of the protagonists begin to spiral out of control. Trevor's unexpected reappearance triggers reckless and erratic behaviour from Michael, which prompts his family to leave. Michael's attempts to make something of himself bring him into conflict with Devin Weston, a self-made billionaire venture capitalist and corporate raider who develops a grudge against him and vows revenge. Franklin is disturbed by the way Lamar falls under the influence of Harold "Stretch" Joseph, a gangster who defected to a rival gang in prison and who repeatedly attempts to kill Lamar to prove himself to his new brethren. Trevor's efforts to consolidate his control over the methamphetamine market in Blaine County see him waging war against the San Andreas chapter of The Lost outlaw motorcycle club, a number of Latin American street gangs, rival meth dealers, government-sponsored mercenaries and a Triad led by Wei Chang, one of the most senior figures in the Chinese criminal underworld.
Michael is forced by FIB agents Dave Norton and Steve Haines to perform a series of operations with Franklin and Trevor with the objective of undermining a rival agency, the IAA. Under Haines' direction, they attack an armoured convoy carrying funds intended for the IAA and raid a bank containing the payroll for all of the corrupt police and public officials in Los Santos, but Michael and Trevor are forced to temporarily hide in Blaine County after they perform a job for Madrazo and demanding compensation, Trevor kidnaps his wife. As Haines comes under increasing scrutiny for his methods, he forces them to infiltrate the FIB headquarters and erase any evidence being used against him from their servers. Michael takes the opportunity to wipe any data on his own activities in the process, destroying Haines' leverage over him. After Trevor returns Madrazo's wife, the trio start making plans for their most daring feat ever: raiding the gold bullion reserve from the Union Depository. ...
Did You Know? Each protagonists' character was made to fit a specific "Grand Theft Auto" player. Michael initially represents the player who has already "beat the game," now living out their life as a successfully retired criminal. Trevor is a complete psychopath, representing the type of player who prefers to kill and cause chaos when they free roam. Franklin is a small time thug wanting to rise through the ranks of the criminal underworld similar to the traditional protagonists that the player controls in previous games.