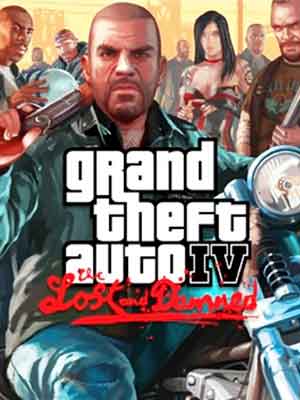 Grand Theft Auto 4: The Lost and Damned (2009)
Director: Rod Edge
Director: John Zurhellen
Writer: Dan Houser
Writer: Rupert Humphries
Publisher: NRMGAMINGHD
Runtime: 01:16:33

"Grand Theft Auto 4: The Lost and Damned" features a new protagonist, Johnny Klebitz, who is a member of the Alderney chapter of one percenter motorcycle club The Lost, a club which is featured in missions throughout the course of "Grand Theft Auto 4."
Johnny Klebitz, Vice President of the Alderney chapter of The Lost Brotherhood, has been busy protecting the gang's business interests in Liberty City, and is loyal to the chapter president, Billy Grey, who was recently sent to rehab for heroin addiction after narrowly avoiding a fifteen-year sentence in prison. When Billy returns, his violent actions towards the gang's rivals, the Angels of Death, causes a previously established truce to be broken between the two gangs, threatening the Brotherhood's survival. Johnny also works with Jim Fitzgerald to further sabotage Angels of Death business at the behest of Billy Grey, which includes stealing Angels of Death bikes to be sold for parts and blowing up Angels of Death vans with pipe bombs. They briefly have problems with Jimmy Matthews and Ed McCornish, corrupt police officers who are attempting to extort them due to the stolen bikes, and later lure them into a death trap set by the Lost, killing them and their corrupt LCPD colleagues.
To further complicate matters, Jason Michaels, a recently patched-in member of the Lost MC, is killed in Broker during an attack on members of the Lost by the Angels of Death. Billy uses the opportunity to convince Johnny that the AoD were responsible for the murder. ...
Did You Know? "Grand Theft Auto 4: The Lost and Damned" have a much more gritty look as compared to the "Grand Theft Auto IV: The Ballad of Gay Tony," as well as the default weather in the daytime being a light or dark orange color, and a dark blue at night. This was possibly intended to match with the theme of the outlaw biker image.