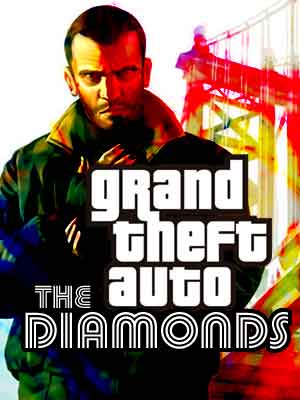 Grand Theft Auto 4: The Diamonds (2008)
Director: Rod Edge
Director: John Zurhellen
Writer: Dan Houser
Writer: Rupert Humphries
Publisher: whatever57010
Runtime: 01:40:27

"Grand Theft Auto 4: The Diamonds" takes place before the events of the Grand Theft Auto IV saga, The Cook had stolen the diamonds from Ray Bulgarin. He then smuggles the diamonds by hiding them in cake batter, and brings them into Liberty City inside the Platypus, which is also bringing in Niko Bellic.
Eventually, Anthony "Gay Tony" Prince, his boyfriend Evan Moss and Luis Fernando Lopez met with The Cook to buy the diamonds. However, Pegorino Family capo Ray Boccino discovered the transaction was taking place and sent Johnny Klebitz and other members of The Lost Brotherhood to crash the meet and steal them.
After buying the diamonds, Luis notices Johnny approaching and bundled Tony into a limousine, while shouting to Evan, who was holding the diamonds, to get them to Maisonette 9. Johnny sent numerous Lost members after Luis and Tony while he chased Evan. Luis and Tony managed to fend off the bikers, but Evan is caught by Johnny and killed, and the diamonds are taken from him. Johnny followed Ray's orders to hide the diamonds in two trash bags, which would later be collected by Niko Bellic, Luca Silvestri, Johnny Barbosa and Joseph DiLeo while disguised as trashmen.
Niko left Luca with the diamonds as instructed, however Luca and his crew plotted to steal them and flee to Las Venturas. Niko soon caught them before they left and killed them all in Middle Park, before taking the diamonds back and returning them to Boccino.
Around the same time, the McReary Family had Niko kidnap Ancelotti's daughter Gracie, the original intention being to extort money directly from the old man by holding her at ransom. ...