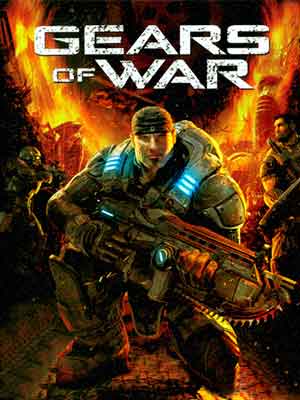 Gears of War (2006)
Writer: Eric Nylund
Writer: Susan O'Connor
Writer: Eric Trautmann
Publisher: Gamematics
Runtime: 01:59:08

"Gears of War" takes place on the planet Sera. A liquid called Imulsion became a highly valued power source after a scientist discovered how to use it, and the economic shockwave led to several wars between nations. The Coalition of Ordered Governments (COG) originally existed only as an obscure world-government philosophy, but it evolved into a legitimate, though minor, political party during the 79-year-long Pendulum Wars.
The soldiers of the COG are called gears. After "Emergence Day" (E-Day), when the Locust began their attack on humanity, the COG were the ones who took the necessary steps to ensure the survival of human civilization, instituting martial law and taking charge of the effort against the Locust. Fourteen years later, the COG is the only human government left on Sera. One year after E-Day, after losing battle after battle against the Locust, the COG made the greatest sacrifice using the Hammer of Dawn on Human cities giving the citizens of Sera only three days to evacuate to the Jacinto Plateau, the only place Locust couldn't dig through before pushing the proverbial button on the hammer strike.
The story begins fourteen years after Emergence Day (E-Day), when the Locust Horde overran and killed many COG soldiers and civilians, declaring war against humanity. The story primarily focuses on Marcus Fenix, the main character, and Delta Squad, consisting of Dominic "Dom" Santiago, Damon Baird, and Augustus Cole. Side characters, such as Colonel Hoffman, Anthony Carmine, and Lieutenant Kim, also aid Delta Squad. ...
Did You Know? "Gears of War" started as a first person game, but after seeing tech demos of Unreal Engine 3, they decided it was a shame to not be able to see the character whenever he's doing anything. They wanted to do something different from "Unreal Tournament."