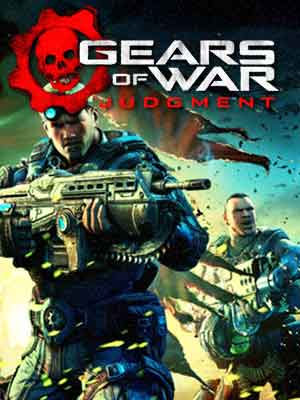 Gears of War: Judgment (2013)
Director: Chris Borders
Writer: Rob Auten
Writer: Tom Bissell
Publisher: GamerGraphix
Runtime: 02:16:48

"Gears of War: Judgment" is the fourth entry to the "Gears of War" series. The story takes place during flashbacks recalled by Baird and his team during a hearing at a COG military tribunal. Each level is a recollection by a different member of the team. Lieutenant and mechanical genius Damon Baird, former Thrashball player Augustus Cole, Onyx Guard cadet Sofia Hendirk and former UIR soldier Garron Paduk. The reason for the hearing is Baird's unauthorized use of a lightmass missile and subsequent death penalty. Upon hearing Baird's testimony it flashes back to Kilo Squad during the early time of emergence day the locust have seized control of many human areas and seek to take over Sera.
The story begin as Kilo Squad is put on trial for various crimes by Colonel Ezra Loomis and is given the chance to explain their actions.
Following orders, Kilo checks out a convoy in the Old Town part of Halvo Bay only to find it destroyed. Kilo proceeds to battle through Old Town and into the Museum of Military Glory where they encounter the fearsome Locust General Karn and his mount Shibboleth accompanied by hundreds of Locust. Contacting Colonel Loomis, Cadet Sofia Hendrick suggests using a powerful weapon known as the Lightmass Missile to take Karn out, but Loomis is against the idea. Realizing how dangerous Karn is, Kilo decides to do it anyway and travels to the Onyx Guard Academy where they find and protect the missile's targeting beacon, a bot that Lieutenant Damon Baird later names Troy. With Troy in their possession, Kilo travels to the Seashore Hills to the mansion of Professor Elliot, creator of the missile in order to get the launch codes needed to fire the missile.
Fighting into the mansion, Kilo must defend Troy from repeated waves of Locust as he downloads the launch codes. Once they have the codes, Kilo travels to the island of Onyx Point where the missile itself is, fighting through entrenched Locust forces to reach and arm the missile. Despite orders to the contrary, they arm the missile and head back to the museum where they figure Karn is heading to lay a trap. Fighting across the rooftops of Old Town, Kilo sends Troy in to guide the missile and despite Loomis threatening to execute them if they go through with their plan, Baird fires the Lightmass Missile at the museum, blowing it up and killing hundreds of Locust, Karn presumably among them. Kilo then defends themselves from a massive Locust attack on their rooftop and once its over, are arrested by Loomis for their actions. ...