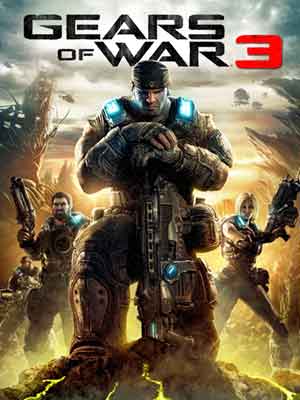 Gears of War 3 (2011)
Writer: Karen Traviss
Publisher: stepultura
Runtime: 02:09:36

"Gears of War 3" begins as Chairman Prescott unexpectedly arrives on the Sovereign. Prescott informs Marcus Fenix he needs to relay important information to the ship's senior officer, Captain Michaelson. The Lambent then launch a surprise attack on the ship, which leaves Michaelson dead and Prescott mortally wounded. Before dying, Prescott gives Marcus an encryption to the disc that Colonel Hoffman has and reveals that his father, Adam Fenix, is still alive but captive on Azura, a secret COG base. Marcus, Dom, Cole, and Baird fight their way to the Anvil Gate Fortress, where Hoffman possesses the necessary equipment to decrypt Prescott's disc. Upon arriving at Anvil Gate, Marcus and his comrades assist Hoffman's soldiers in repelling a combined Lambent and Locust assault.
Upon further analysis of the disc's content, Marcus learns that Azura is protected by man-made hurricane generators, making the island only accessible by submarine. Marcus and his comrades successfully find a submarine but require Imulsion to fuel it. Dom suggests they first venture to an abandoned town called Mercy, where they discover that humans are becoming Lambent. ...
Did You Know? Before "Gears of War 3" released, the developers held an Internet poll in the form of a "Save Carmine" campaign. People could buy avatar t-shirts for their Xbox Live Avatars with either a Carmine Lives or Carmine Dies logo on it. The sales of each were tallied so that "Gears of War's" fans could determine Carmine's fate.