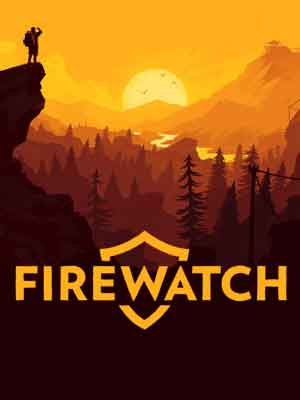 Firewatch (2016)
Director(s): Jake Rodkin
Writer(s): Sean Vanaman
Publisher: Rabid Retrospect Games
Runtime: 02:14:11

"Firewatch" takes place in the American state of Wyoming in 1989. It follows a Shoshone National Forest fire lookout named Henry, following the Yellowstone fires of 1988. A month after his first day at work, strange things begin happening to both him and his supervisor Delilah, which connects to a conspired mystery that happened years ago. Henry's only means of communication is a walkie-talkie connecting him to his supervisor, Delilah. Through exploration of the surrounding area, Henry uncovers clues about mysterious occurrences in the vicinity that are related to the ransacking of his tower while out on a routine patrol and a shadowy figure that occasionally appears watching him from afar.
In 1989, following the Yellowstone fires of 1988, Henry (Rich Sommer) takes a job as a Shoshone National Forest fire lookout, after his wife Julia (Larissa Gallagher) develops early-onset dementia. On the first day, his supervisor Delilah (Cissy Jones) contacts him via walkie-talkie and asks that he investigate illegal fireworks at a nearby lake. There he detects teenage girls skinny dipping, who accuse him of leering. On his way back, he finds a locked cave and spots a shrouded figure. Henry discovers his watchtower ransacked at arrival. The next day, Delilah sends him to a downed communication line. It is found cut, along with a message from the girls. He and Delilah plot to scare them off, but Henry finds their campsite abandoned. ...
Did You Know? In September 2016, it was announced that Campo Santo was partnering with production company Good Universe to adapt "Firewatch" into a feature film.