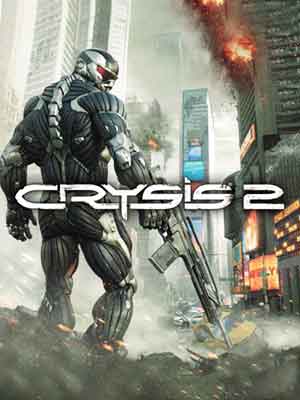 Crysis 2 (2011)
Director: Cevat Yerli
Writer: Martin Lancaster
Writer: Richard Morgan
Writer: Rob Yescombe
Publisher: Movie Edition Games
Runtime: 02:39:41

"Crysis 2" takes place in 2023, three years after the events of the first game, "Crysis," in a destroyed New York City which has since been evacuated due to alien infestation. The game begins with news footage of a large outbreak of the "Manhattan" virus, a gruesome disease that causes complete cellular breakdown; civil unrest; and panic about an alien invasion by the Ceph, the tentacled, squid-like alien race behind the incident of the previous game, Crysis. Due to the breakdown in social order within New York City, Manhattan is placed under martial law, and under contract from the US Department of Defense, soldiers from Crynet Enforcement & Local Logistics (or simply "CELL"), a private military contractor run by the Crynet corporation, police the chaos.
A United States Marine Corps Force Recon unit is deployed into New York City by the submarine USS Nautilus to extract former Crynet employee Doctor Nathan Gould, who may have vital information on combating the alien race. However, insertion goes awry - the Ceph, the alien race that is trying to destroy humanity, sinks the sub, and Force Recon Marine "Alcatraz" is left as the only apparent survivor. Delta Force Major Laurence "Prophet" Barnes saves Alcatraz and is forced to kill himself in order for his Nanosuit to assimilate Alcatraz. A recording left in the suit reveals that Prophet had been infected by the Manhattan virus, and that Alcatraz is to finish Prophet's mission to rescue humanity from the alien invasion. Believing Alcatraz is Prophet, Gould soon gets in contact with him and asks him to meet up at his lab. However, CELL forces, led by Commander Dominic Lockhart, target Alcatraz and label him as a major bio-hazard, believing him to be the infected Prophet. This forces Alcatraz to combat CELL troops throughout Manhattan as he makes his way to Gould's lab. While on his way to Gould's laboratory, Alcatraz collects alien tissue samples from a crashed Ceph dropship and a Ceph soldier, which cause strange reactions within his Nanosuit, giving him some alien abilities. Alcatraz eventually meets with Gould, who is initially hostile after learning that he is not Prophet. However the last suit recording of Prophet's message causes Gould to relent, prompting Gould to explain that the suit has been busy rewriting its own code after absorbing the Ceph's tissue, speculating that the suit was creating an antibody for the Manhattan virus. Gould and Alcatraz commit to further scans at a Crynet base on Wall Street. They find out that Alcatraz was mortally wounded when Prophet rescued him, and that the Nanosuit is the only thing keeping Alcatraz alive. The scans are cut short when CELL forces led by Commander Lockhart and Lieutenant Tara Strickland, daughter of U.S. Marine Corps Major Strickland from the first game, ambush Alcatraz and Gould.
During the middle of a prisoner transfer outside of the building, the Ceph attack the CELL personnel as a massive alien spire rises from underneath the Crynet building, releasing a spore-based bioweapon that kills most of the CELL troops in the immediate area. Alcatraz is left stranded and isolated for a period of time while dealing with a Nanosuit malfunction caused by the spore bio-weapon. The suit gets rebooted remotely by Crynet director and Hargreave-Rasch Biotechnologies co-founder Jacob Hargreave, a centenarian who apparently had foreknowledge of the Ceph and had spent most of the previous century using stolen Ceph technology to design the Nanosuit to be used as a defense against the aliens. Hargreave directs Alcatraz to another Ceph spire to conduct an important experiment for him. ...
Did You Know? "Crysis 2" Original Soundtrack was composed by Borislav Slavov and Tilman Sillescu with the help of Hans Zimmer and Lorne Balfe. A new rendition of the song entitled "New York, New York" by Grammy nominated artist B.o.B was used in the launch trailer.