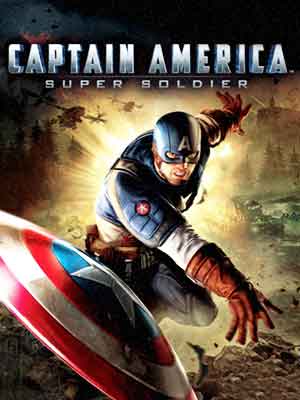 Captain America: Super Soldier (2011)
Director: Michael McCormick
Director: Robert Taylor
Writer: Christos N. Gage
Publisher: stepultura
Runtime: 01:11:58

"Captain America: Super Soldier" takes place during the events of the film, Joe Johnston's "Captain America: The First Avenger," explaining Captain America's adventures against the Red Skull and HYDRA all over the planet as established in the film. The game begins with two U.S. soldiers getting attacked by HYDRA forces. Captain America arrives to save them and manages to fend them off before contacting Howard Stark with regards to the new threat.
While in communication with Peggy Carter, Captain America learns that the munitions recovered from the battle came from the mountains of Bavaria based on the rare metal used. Captain America is briefed on Project: Master Man and how Dr. Arnim Zola has unlocked the secrets of the human genome as one step towards immortality. He drops down in a village near the castle and disables anti-air forces so that the Invaders can enter the village. He then proceeds towards the armory in order to destroy the weapons before they are sold to the Nazis.
Having reported to Peggy that the Invaders are clear to drop, Montgomery Falsworth questions whether all the guns are destroyed just as a radio dish and a hidden cannon emerge which Captain America identifies as more of Arnim Zola's dangerous machines. Unable to reach the cannon in time, he heads to the building housing the radio dish, encountering more and more of Hydra led by Baron Wolfgang Von Strucker. Captain America plants charges along the steel support beams of the radio dish tower to destroy it when Strucker intercepts Captain America, engaging in a fist fight. The radio dish is destroyed, but the cannon still hits one of the wings of the plane carrying the Invaders. Fortunately, they all parachute out in time. Strucker surprises Captain America and manages to knock him unconscious as they both fall from the exploding tower.
Captain America is then taken to Zola's lab by Iron Cross and sees Madam Hydra give orders for an analysis of Captain America's shield. After a brief talk of how his blood was taken, Zola shows his new project involving more test subjects containing the Super Soldier Serum from the Captain's blood. Zola "allowed" the Captain to live only to study Captain America's skills. He shortly breaks free and proceeds through the base to destroy the samples of Zola's experiments for an army of Super Soldiers, dispatching Hydra troops and making his way to a radio to contact Peggy Carter. He learns that some of his friends are being held near his present location. Captain America recovers his gear and proceeds to free Bucky who informs him of other P.O.W.s in the base, giving Captain America a radio communicator to keep in touch while Bucky gets them to a train. As he makes his way to rescue Dum Dum Dugan and Falsworth, Zola's experimental Super Soldiers escape. ...
Did You Know? The Xbox 360 and PlayStation 3 versions of "Captain America: Super Soldier" include a stereoscopic 3D mode for 3D HDTVs and for 2D HDTVs via Inficolor 3D glasses. It uses TriOviz for Game Technology, which is integrated with Unreal Engine 3, for stereoscopic 3D support. All "Captain America: Super Soldier" gameplay and cinematics have S3D support.