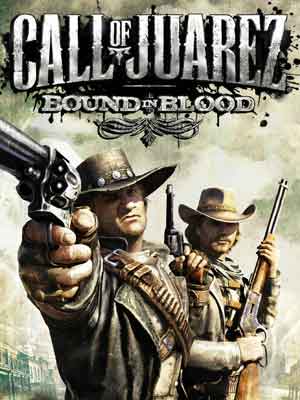 Call of Juarez: Bound in Blood (2009)
Writers: Haris Orkin, Pawel Selinger
Publisher: iampanax
Runtime: 01:55:26

"Call of Juarez: Bound in Blood" focuses on the McCall brothers; Ray and Thomas. Beginning towards the end of the American Civil War in August 1864, they abandon their post to try to save their family home. Labelled deserters, they go on the run, with their younger brother William, a priest, joining them. Two years later, hiding out in Mexico, they meet the bandit Juan Mendoza and his girlfriend Marisa, and first encounter the legend of the Gold of Juarez. With their army commander still pursuing them, they enter into a dangerous alliance with Mendoza and an Apache tribe in order to find the gold.
In 1864, with Ray and Thomas fighting for the Confederacy in the American Civil War. Near the Chattahoochee River, the brothers help to repulse an attack by the Union Army. However, rather than go on the offensive, Colonel Barnsby orders a retreat to Jonesboro to reinforce supply lines. The McCalls refuse to comply, and instead desert to try to save their nearby home. When they arrive, they find the house partially destroyed, their mother dead, and William by her bedside. Vowing to return and rebuild the house, they leave, knowing they are fugitives. A short while later, Barnsby arrives, vowing to track them down and hang them for their desertion.
In 1865, with the Union victorious. Barnsby, however, has refused to surrender, and continues to both fight the army and hunt the McCalls. The brothers head to Fort Smith, Arkansas, with William growing increasingly worried by their lawless behaviour. When the local marshal learns Thomas slept with his daughter, there is a shoot-out and the marshal is killed. The brothers flee, heading to San Lorenzo in Mexico. Ray has heard tales of an Aztec treasure called the "Gold of Juarez," supposedly the ransom accumulated for Montezuma after he was taken captive by Hernándo Cortés, which disappeared after the fall of Tenochtitlan, and hopes they can find it and use it to rebuild their home. ...
Did You Know? Discussing inspirations for "Call of Juarez: Bound in Blood", Techland lead product manager Pawel Kopinski stated "we wanted to capture the best of all the western movies we love, so it can't be simply categorized as either a Spaghetti Western or a realistic Western. It's a blend of the best elements from both."[1] He specifically cited Sergio Leone's Dollars Trilogy (A Fistful of Dollars, For a Few Dollars More and The Good, the Bad and the Ugly), and Once Upon a Time in the West, Ed Harris' Appaloosa, James Mangold's 3:10 to Yuma, and TV show Deadwood as influences