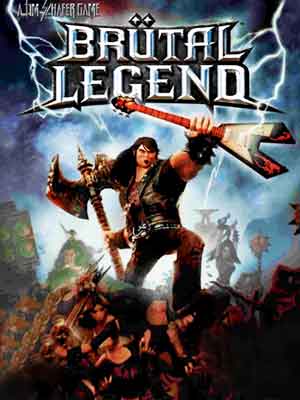 Brutal Legend (2009)
Director: Tim Schafer
Writer: Tim Schafer
Publisher: Digitális Dimenziók
Runtime: 02:25:45

Tim Schafer, the game's creative director, was inspired by his own past musical experiences. "Brutal Legend" features the character of Eddie Riggs, voiced by and modeled after Jack Black, a roadie who is transported to a fantasy world inspired by the artwork of heavy metal album covers. Eddie becomes the world's savior, leading the down-trodden humans against a range of supernatural overlords using a battle axe, his Flying V guitar that can tap into the magical powers of the world, and a customizable hot rod. In addition to Black, the game features voices of heavy metal musicians including Lemmy Kilmister, Rob Halford, Ozzy Osbourne and Lita Ford and other celebrities such as Tim Curry, as well as more than one hundred metal songs selected by Schafer for inclusion in the game.
During a gig for Kabbage Boy, Eddie is crushed by falling scenery while trying to save a member of the band; his blood lands on his belt buckle, in reality an amulet for Ormagöden. The stage is transformed into Ormagöden, who kills the band and takes the unconscious Eddie to the heavy metal world. Awaking in the Temple of Ormagöden, Eddie meets with Ophelia while fighting Doviculus' forces, developing a crush on her. They discover writings left by the Titans that Eddie is able to comprehend, and build a hot-rod, the "Deuce", that they use to escape the Temple and travel to Bladehenge, the base for the small human resistance force led by Lars and Lita. When they meet Eddie and learn he can understand the Titans' messages, they see him as a prophetical "Chosen One", though unsure if he will be the savior or destroyer of the world. Ophelia also becomes concerned when Eddie, in the heat of battle, transforms into a winged creature, an effect Eddie decides to use to his advantage at the time. Eddie helps Lars, Lita, and Ophelia create an army, named "Ironheade" to fight against General Lionwhyte. They successfully raid Lionwhyte's "Pleasure Tower" and defeat him. However, as they celebrate, Doviculus arrives, sending the group into hiding. ...
Did You Know? "Brutal Legend" received positive response from gaming journalists, with reviewers praising the story and characters of the game, driven vocal performances of the voice actors, particularly Jack Black and Ozzy Osbourne. Black was given the Best Voice award at the Spike Video Game Awards 2009. "Brutal Legend" won the "Best Strategy/Simulation Game" and "Outstanding Achievement in Soundtrack" awards in the 13th Annual Interactive Achievement Awards from the Academy of Interactive Arts & Sciences, and was nominated for "Outstanding Character Performance" (for Eddie Riggs), "Outstanding Achievement in Original Story", and "Outstanding Achievement in Game Direction". The game was also nominated for the Game Developers Choice Awards for "Best Writing" and "Best Audio"