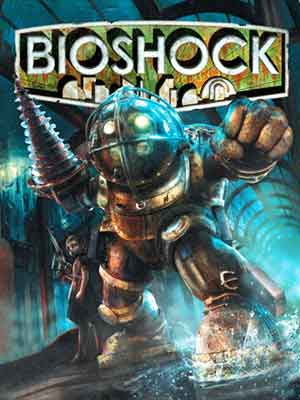 BioShock (2007)
Director: Paul Hellquist
Writers: Ken Levine, Susan O'Connor
Writer: Emily Ridgway
Publisher: Gamers Little Playground
Runtime: 02:24:17

"BioShock" is set in 1960, follows the protagonist, Jack, after his airplane crashes in the ocean near the bathysphere terminus that leads to the underwater city of Rapture. Built by the business magnate Andrew Ryan, the city was intended to be an isolated utopia, but the discovery of ADAM, a plasmid which grants superhuman powers, initiated the city's turbulent decline. Jack tries to find a way to escape, fighting through hordes of ADAM-obsessed enemies such as the deadly Big Daddies, while engaging with the few sane humans that remain and eventually learning of Rapture's past.
The story begins Jack is a passenger on a plane that goes down in the Atlantic Ocean. As the only survivor, Jack makes his way to a nearby lighthouse that houses a bathysphere terminal that takes him to Rapture. Jack is contacted by Atlas via radio, and is guided to safety from the Splicers and the perils of the run down city. Atlas requests Jack's help in stopping Ryan, directing him to a docked bathysphere where he claims Ryan has trapped his family. When Jack encounters a wandering Little Sister and its fallen Big Daddy, Atlas urges Jack to kill the Little Sister to harvest her ADAM for himself; Dr. Tenenbaum overhears this and intercepts Jack before he harms the Little Sister, urging him to spare the child and any other Little Sisters he encounters, providing him with a plasmid that would force the sea slug out of her body. Jack eventually works his way to the bathysphere, but Ryan destroys it before Jack can reach it. Enraged, Atlas directs Jack towards Ryan's mansion through Ryan's army of Splicers and Big Daddies. At times, Jack is forced to travel through areas controlled by Ryan's allies that have now become deranged, such as Sander Cohen, a former musician that now takes enjoyment in watching the death and misery of others.
Ultimately, Jack enters Ryan's personal office, where Ryan is patiently waiting for Jack by casually playing golf. Ryan explains he fully knew of Atlas' plan, and explains that Jack is his illegitimate child, ...
Did You Know? The thematic core of "BioShock" borne out when Levine was walking at Rockefeller Center near the GE Building. He saw the uniqueness of the art deco styling of the building along with imagery around the building such as the statue of Atlas near it, and recognized that these were spaces that had not been experienced in the first-player shooter genre. The history of the Rockefeller Center also fed into the story concept; Levine noted how the Center had started construction prior to the Great Depression of the 1920s; when the primary financiers had pulled out, John D. Rockefeller backed the remaining construction to complete the project himself, as stated by Edge magazine "a great man building an architectural triumph against all the odds." The history of Rapture and the character of Andrew Ryan is loosely based on Rockefeller's story.