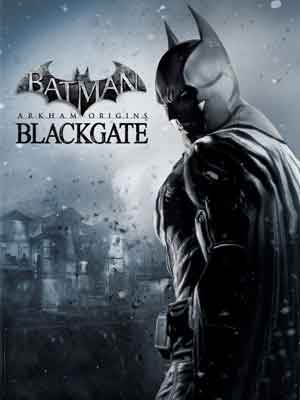 Batman: Arkham Origins - Blackgate (2013)
Director: Mark Pacini
Publisher: Gamers Little Playground
Runtime: 00:42:58

Based on the DC Comics superhero Batman, it is a companion to the (2013) "Batman: Arkham Origins," and is a part of the Batman: Arkham series. Set three months after the events of "Batman: Arkham Origins," a mysterious explosion at Blackgate Prison allows Joker, Penguin and Black Mask to each gather enough henchmen in order to take over their own section of the prison. After being informed that Blackgate has been separated into three sections: the Cell Block, the Industrial Area, and the Administration Offices, Batman goes to investigate and he quickly learns that there is more to this than your average uprising. Batman also meets Catwoman and others for the first time, and begins to forge a relationship with a young Captain Gordon.
While patrolling Gotham one night, Batman spots Catwoman stealing from a high-tech building, and chases her, eventually catching her and taking her to Blackgate. Two weeks later, Captain Gordon contacts Batman to inform him of an explosion at Blackgate, as well as multiple hostages held by the now free inmates. The prison has been divided into three main territories, each one held by the Joker, Penguin and Black Mask.
Upon entering the prison, Batman encounters Catwoman, who informs him of hostages held inside the maximum security area of the prison, known as the Arkham Wing. Before leaving, Catwoman also informs Batman that Joker has cut the air supply to the wing, leaving the hostages with minimal air. On his way to finding Joker, Batman encounters Warden Joseph rigged to bombs in his office. ...
Did You Know? None of the Batman: Arkham series console-game technology is being used for the game, with everything being done by Armature from scratch. "Batman: Arkham Origins - Blackgate" uses a checkpoint system to save, as well as have the ability to save anywhere at any time. All of the 2D animations were done in house at Armature and are fully voiced. While set after the events of "Batman: Arkham Origins," Armature Studio worked closely with WB Montréal to allow the games to be played in any order and not spoil any of the material from either game.