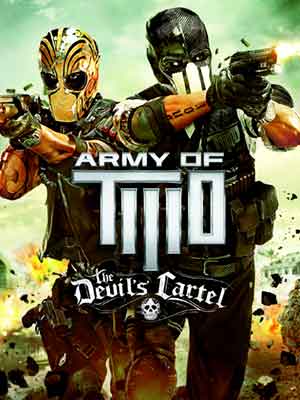 Army of TWO: The Devil's Cartel (2013)
Directors: Julian Beak, Tony de Waal
Writer: Jay Turner
Publisher: MKIceAndFire
Runtime: 01:27:52

"Army of TWO: The Devil's Cartel" is the third game in the "Army of TWO" series, following 2008's "Army of TWO" and 2010's "Army of TWO: The 40th Day." The game takes place in Mexico and pits T.W.O. against a ruthless drug cartel known as La Guadaña (Spanish for "the Scythe").
Shortly after being recruited into T.W.O. (Tactical Worldwide Operations), Alpha and Bravo join Salem and Rios in a rescue operation to save multiple hostages in a cartel compound. During the operation, only one hostage, a girl named Fiona, is found. Salem attempts to leave, believing that if he stays, he will die. Alpha, Bravo and Rios are successful in saving Fiona, but Salem presumably dies. Five years later, T.W.O. is hired by Mayor Cordova, a Mexican politician seeking to bring down the La Guadaña and kill its leader, Estaban Bautista. The T.W.O. operatives, Alpha and Bravo believe nothing will go wrong, until the convoy's movement is interrupted by La Guadaña and Alpha and Bravo survive with some other operatives, but Cordova escapes. ...
Did You Know? EA announced that fans who pre-order the game would be allowed to play with hip hop artists 'B.o.B' and 'Big Boi.' The hip hop artists have collaborated on the game's official theme song "Double or Nothing", produced by SoFLY and Nius and Oddfellow, and appear in game as T.W.O. operatives Charles 'Chuy' Rendall (Big Boi) and Anthony 'Baker' Barnes (B.o.B), sent to take down the cartels in Mexico.